Hey guys,
'Tis true, I have changed my blog around... alot. I knew it was going to happen soon, I just didn't know when. It turned out pretty well. I'm still a relatively new blogger so... it may or may not change again, I'm not sure. And yes, I'm well aware of the fact that I'm very indecisive. Sue me!
Anywho, *gets serious* I'm trying my hardest to be the best blogger I can be. So if you guys have any suggestions on what I should do, let me know! Pwease? Like... what kind of posts do you like reading? Which are your favorite? For instance, my favorite posts are In My Mailbox and Dirty Little Secret. Now what's yours? I hear crickets... LET ME KNOW!
Now if that doesn't sway you, maybe a picture of a cute little cat will?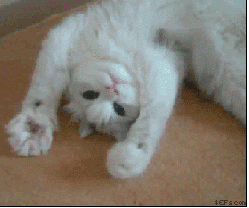 And a big thanks to Amy from
Obsessions of a Bookaholic
for helping me with my blog! Hers is too cute, go check it out!